Travato Service
We specialize in performing Lithium battery and Inverter installation in 59G and 59K models of the Winnebago Travato, but also work on other Winnebago models and provide additional repair and upgrade services such as:
Electrical system diagnostics and repair
Replace failed ATS or upgrade to non-buzzing model
Install remote pump switches (16 & later)
Install Air Conditioner upgrade
Fix leaks in propane lines
Replace failed propane regulator
Test propane pressure level (free)
Plumbing repairs or changes
Install hot water recirculation valve
Upgraded bathroom faucet (14-21 G only)
Install replacement kitchen sink faucet
Propane stove upgrade to Induction burner
Install automatic water pump timeout (15 min)
Add WiFi router with Cellular or Starlink (or both)
And many more...
Current Rates
As of October 2022, rates have been changed to include travel fee.
Hourly: $180
Daily: $1200
Travel fee: $250 per visit (doesn't apply to B-Haven or rallies)
Note: rates are updated periodically as needed.
Billing
When your service is completed, a detailed bill (via PayPal invoice) will be sent to your email address. You can pay online with PayPal if you would like, but we also accept cash, checks, and credit cards through a card reader for payment.
Getting Service
To get on our service schedule for any work from a minor repair or mod to a full Lithium upgrade, please fill out this SERVICE SIGNUP FORM . There is no obligation once signed up, and you can cancel anytime. We will only charge you once your service is completed.
For instructions on how to begin a Lithium and Inverter installation, please also read: Lithium and Inverter installation by STGNET as GDOC or PDF which includes a detailed shopping list of items to obtain from BattleBorn (for installs not performed at B-Haven). It also includes fixed pricing for B-Haven installs.
After filling out the service form, Crystal will be in contact with you (usually within a week) to confirm scheduing options. For any questions on scheduling or service options, please email us: service@stg.net
Note: We are generally booked months in advance. Plese consider these helpful tips:
Signing up as early as possible holds your place in line, and is required as the first step for all services.
We have a new shop called "B-Haven" in Hohenwald Tennessee. It's open when we are there and work is still ongoing to improve the facilities. We currently stock all Lithium upgrade components, solar panels and controllers, parts for common mods, Arana fridge (replacement for Dometic 3-way) and Houghton air conditioners. If you can travel to us, it is generally possible to fit you into the schedule much sooner.
Regardless of your location (within the US 48) we will travel to you to complete your service unless we can arrange to meet up at a common location.
As much as is possible, jobs are performed in the order that we receive requests for.
There can be a considerable delay between signing up for service and completion, based on multiple factors such as weather and travel distance. This can be as much as 6-12 months.
Unfortunately, if we have just recently been to your location, or are currently there and are booked solid, it can mean an extra delay to accomplish other jobs in the queue before we can return to that area.
There can be some delays for weather -- for example, northern locations being limited to non-frozen conditions.
We will accomplish other services along the way if they are in the vicinity of our travels and do not cause a disruption of our existing schedule.
You may wish to review our currently posted schedule (shown below, subject to change) to see if we will be in your vicinity or at a location that it would be convenient for you to travel to.
For smller jobs, we recommend attending a rally that we will also be at for convenience and a small discount on the service rate (discount doesn't apply to parts).
For larger jobs such as more than 2 batteries or inverter installs we cannot accomplish those during a rally, but may be able to schedule you for just prior or just after one.
Please check with us prior to your service to confirm whether we can supply the parts needed or you will need to have those on hand.
The map below shows locations we have visited in the last few years (purely for purposes of illustration). Note that we are not limited to only the locations where red dots appear on this map, but this does provide an idea of locations we more frequently travel to.
Otherwise, plese sign up as early as possible and we appreciate your patience with how long it takes us to get to your job.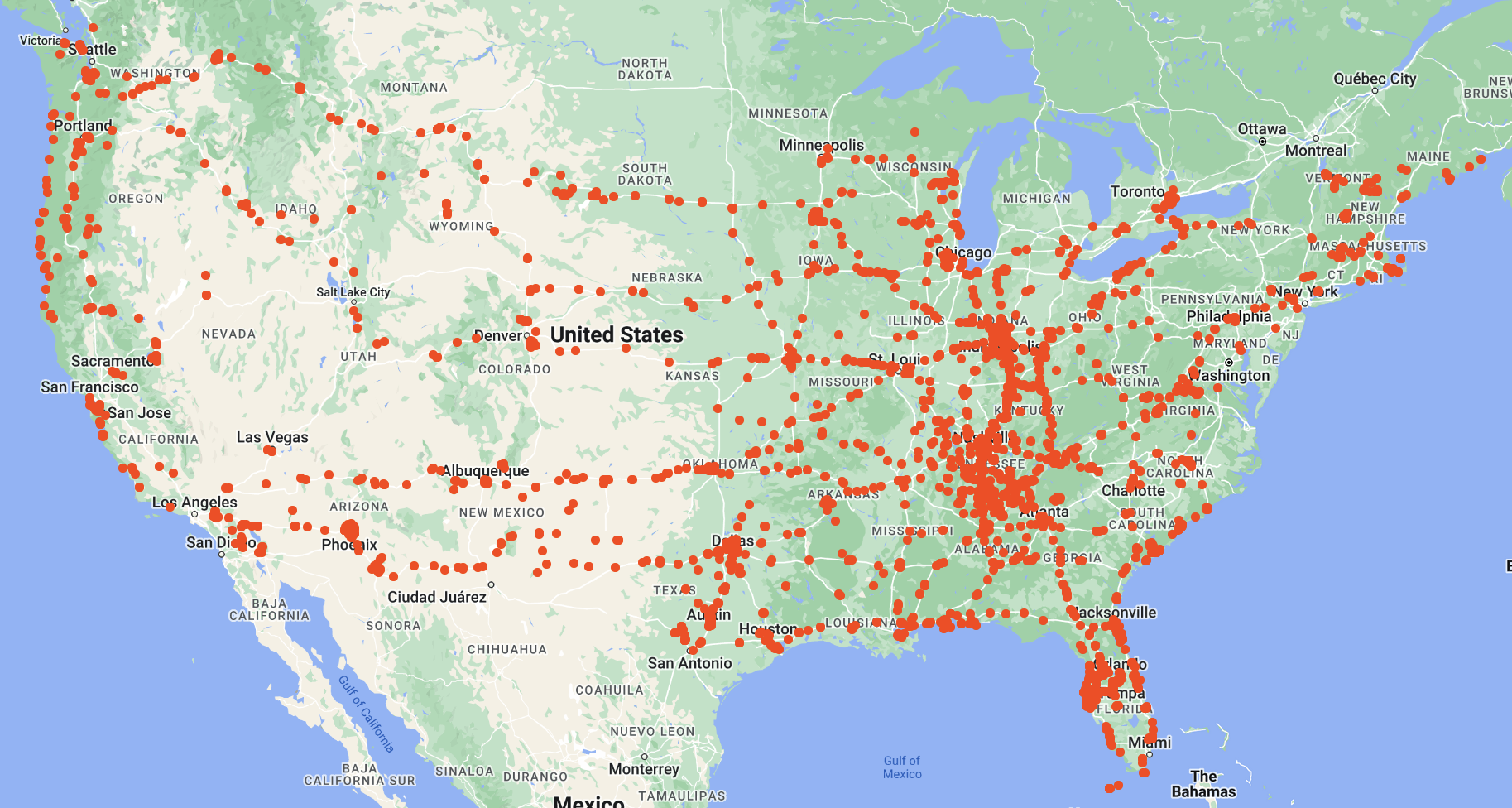 Calendar
Tip: Switch calendar to agenda mode for easier viewing.
Note: If you are seeing a captcha above, try turning off private relay or any vpn service you may be using.
System Status
Just for fun, this is the status of our Victron System, which consists of:
Victron 3000 Inverter/Charger (AC connected between ATS and Breaker panel)
MPPT Solar Controller (560 watts of 24volt panels)
SmartShunt battery monitor (monitoring BattleBorn BB8D 270ah Battery)
Cerbo GX controller with Touch50 panel mounted over slider door
LI-BIM-225 for cycled charging from chassis alternator (shows as negative DC power)